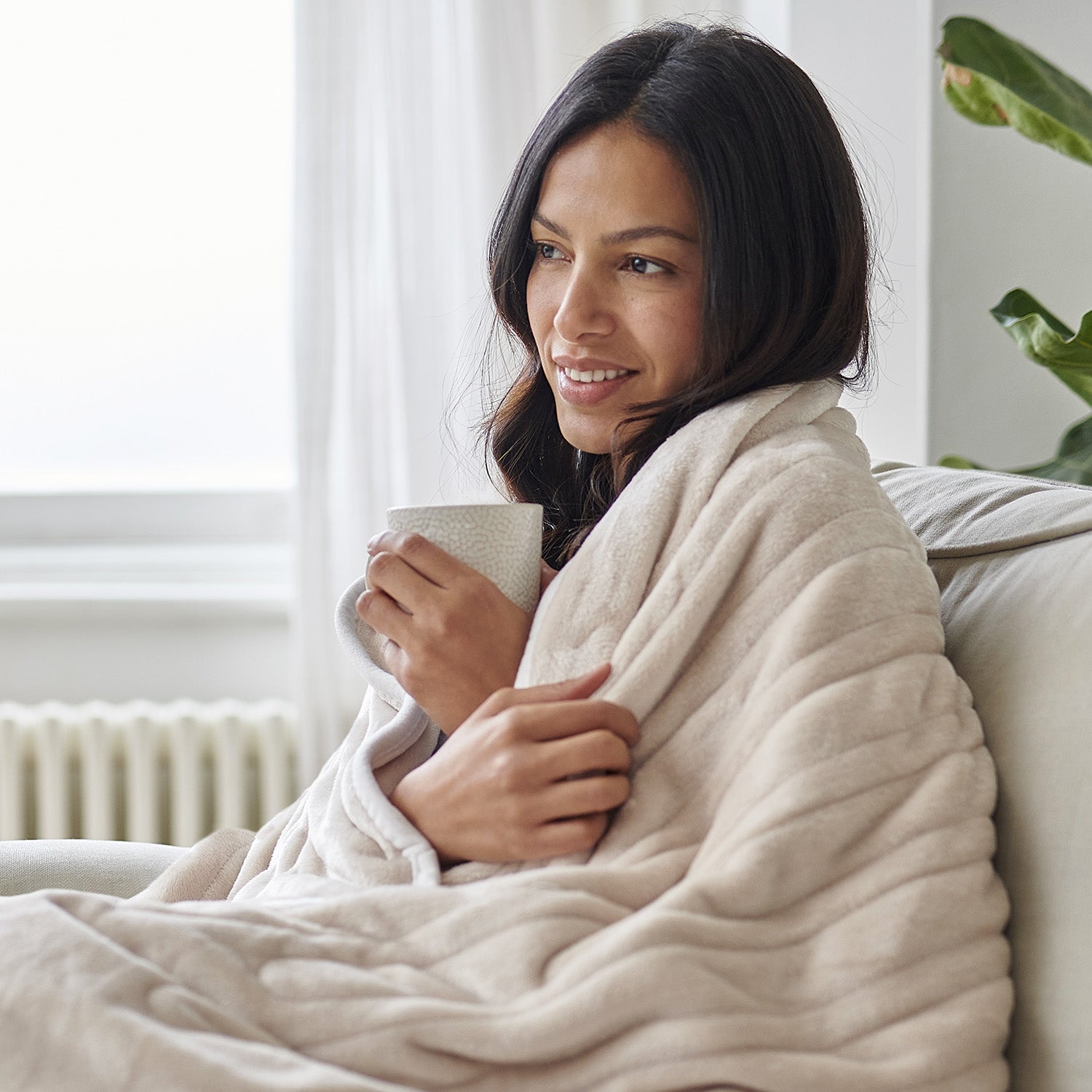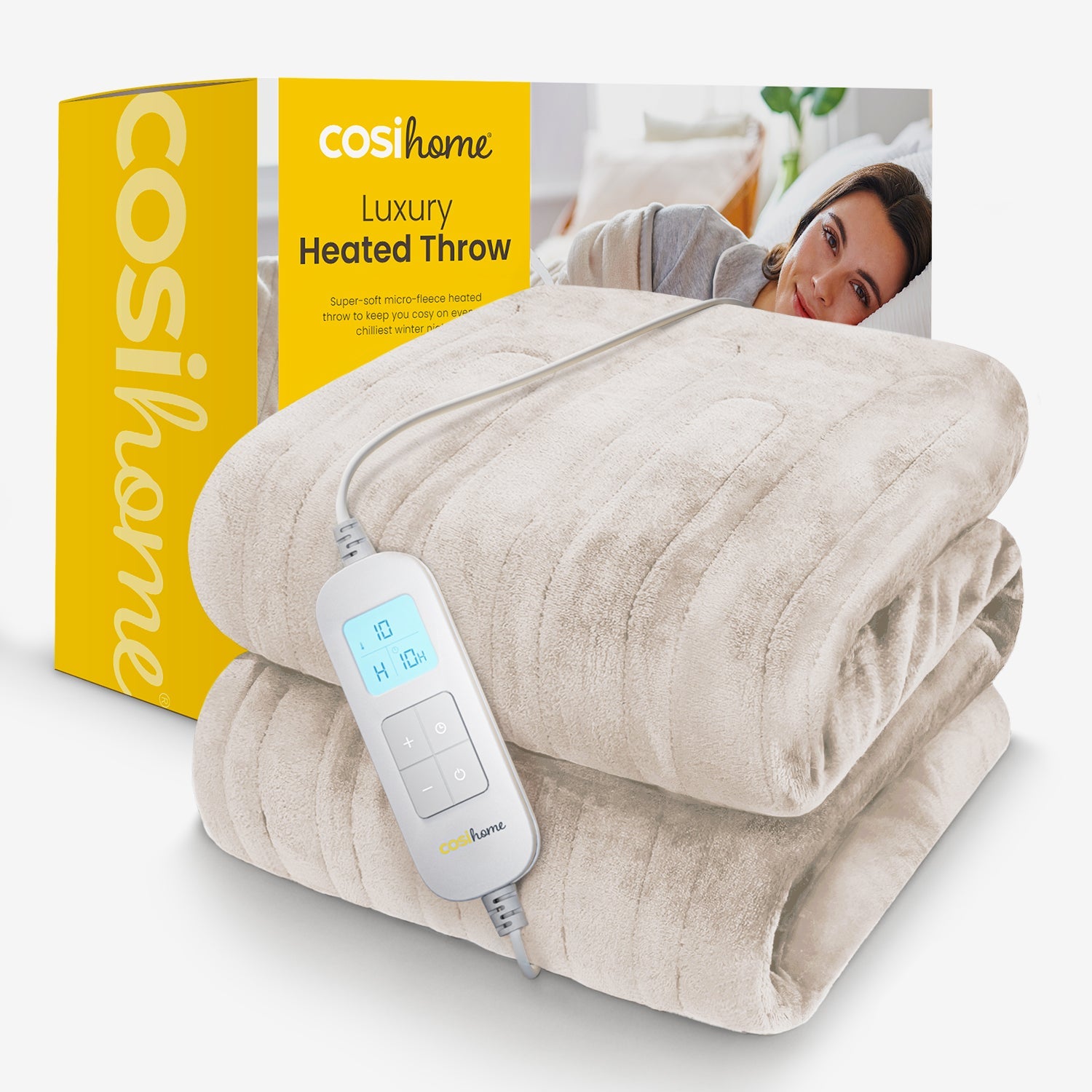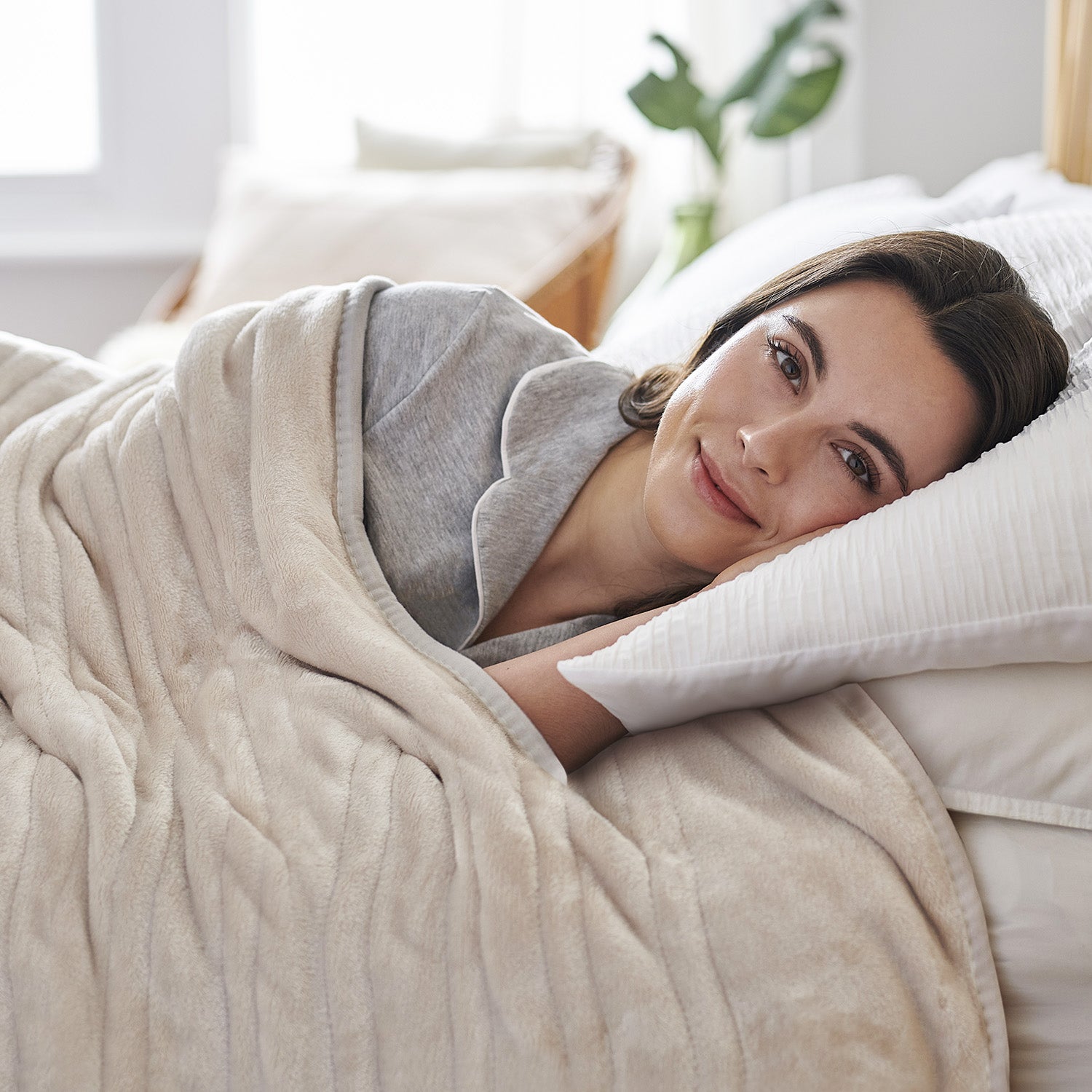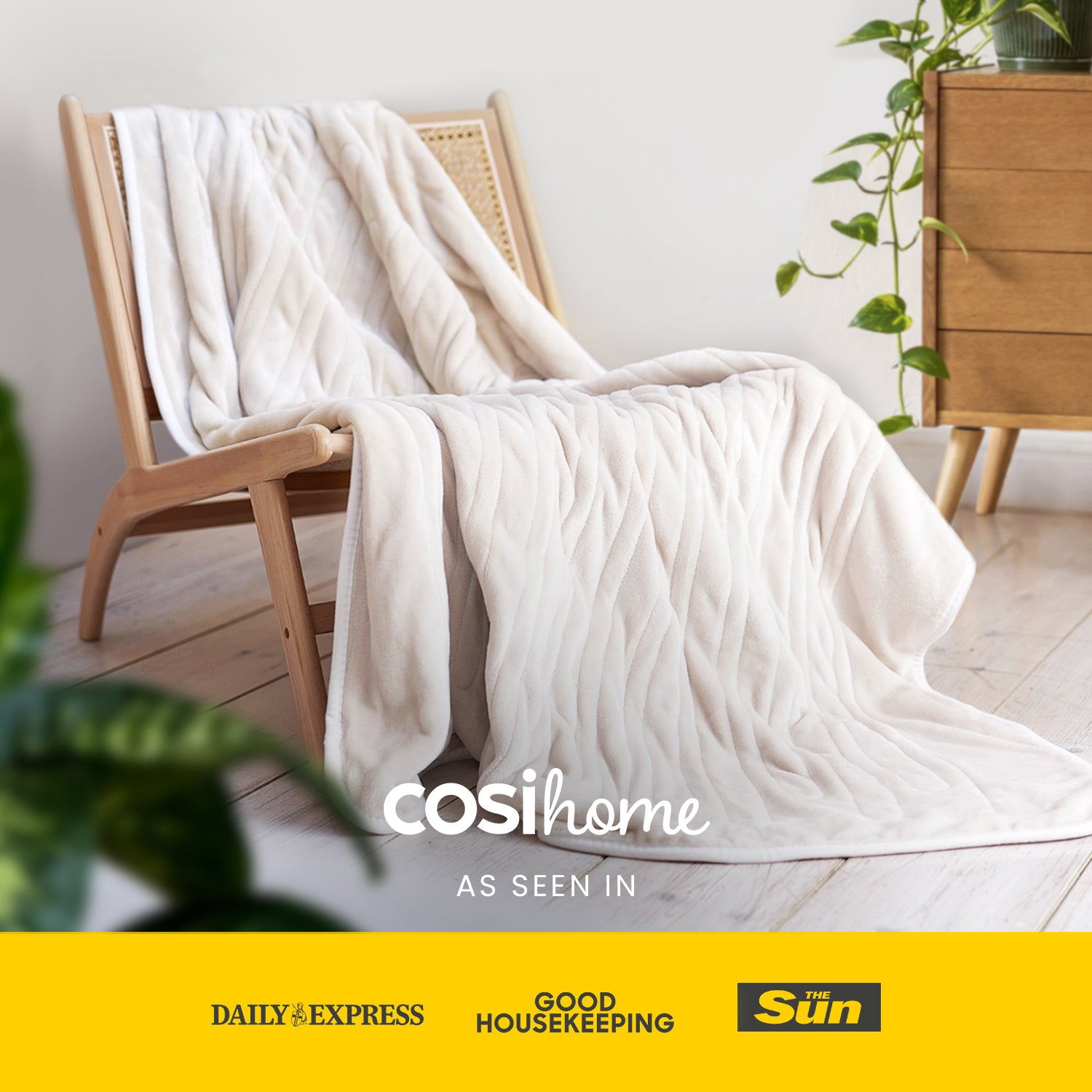 Fleece Electric Heated Throw - Cream
Want it by tomorrow?- Order in
hrs mins sec
Choose
Free Next Day Delivery
at checkout
Heat yourself, not your home with this Fleece Electric Heated Throw. Super soft and cosy, it will keep you toasty warm on chilly evenings while reducing your energy costs.
Fancy being snuggly and warm in the comfort of your home without having to turn the central heating on or find multiple blankets to wrap yourself in? Our Fleece Electric Heated Throw will keep you toasty warm on chilly evenings. The throw features 9 fully adjustable temperature settings giving you complete heating flexibility. All settings are controlled by the simple and easy-to-use remote control that allows you to achieve and maintain your ideal level of warmth. A built-in 9-hour timer, auto and overheat function make it perfect for use on the sofa or when falling asleep.
Warm & Insulating Microfleece:

 

Keeps you warm and is soft against the skin.
3p Per Hour To Run:

 

Helps you to save on energy bills in cold-weather months.
10 Heat Settings:

 

Choose from 10

 

heat settings to suit your needs.
Built-in 9-Hour Timer:

 

With an Auto Shut Off function to work around your schedule.
100% Machine Washable:

 

Just remove the detachable remote control and pop the throw into the washing machine at a low temperature.
Safety Features:

 

Advanced Overheat Protection will automatically turn off in dangerous situations for peace of mind.
Free UK Delivery
All orders sent within the United Kingdom come with free next working day delivery.
EU Delivery
All orders placed within Europe come with free Standard Delivery.
Please allow 1-5 working days for your order to arrive.
Pre-Order Delivery (UK only)
All pre-orders will be dispatched as soon as stock becomes available. You'll receive a shipping confirmation email once your order has been shipped. Pre-order delivery dates are subject to change.
Returns
In order to initiate your return, please notify our Customer Care Team at help@cosihome.com, within 14 days of receiving your order. To be eligible for a refund, your product should be unused.
You will then have an additional 14 days to return your order back to us, so your refund can be issued.
Please click here for further information about returns.
For EU customers, please see here.
If you're concerned that your product is faulty, please contact our Customer Care Team here.
For EU customers, please contact our Customer Care Team here.
Weight

1.6 kg

Power Voltage HZ

110-120W, 220-240V, 50Hz

Power Cord Length

160 cm power cord + 60 cm connection cord

Material

250 GSM Flannel Fleece

Model

HT-02C-UK

Energy Consumption

0.11 - 0.12 kw.h

Timer

1-9 hrs

Dimensions

160 x 130 cm

Number Of Heat Settings

10

Maximum Temperature

50°C

Safety Features

Overheat & Overcurrent protection

Estimated Energy Cost

3p per hour

Overheat Protection

Yes

Specifications Table Type

Heated Throws
Compare with similar items
Weight

1.6 kg

Power Voltage HZ

110-120W, 220-240V, 50Hz

Power Cord Length

160 cm power cord + 60 cm connection cord

Material

250 GSM Flannel Fleece

Model

HT-02C-UK

Energy Consumption

0.11 - 0.12 kw.h

Timer

1-9 hrs

Dimensions

160 x 130 cm

Number Of Heat Settings

10

Maximum Temperature

50°C

Safety Features

Overheat & Overcurrent protection

Estimated Energy Cost

3p per hour

Overheat Protection

Yes
Weight

1.9 kg

Power Voltage HZ

85W, 220-240V, 50Hz

Power Cord Length

150 cm power cord + 50 cm connection cord

Material

‎Microfleece + Faux Fur

Model

HT-04G-UK

Energy Consumption

0.085 kw.h

Timer

1-9 hrs

Dimensions

160 x 130 cm

Number Of Heat Settings

9

Maximum Temperature

45-50°C

Safety Features

Overheat & Overcurrent protection

Estimated Energy Cost

3p per hour

Overheat Protection

Yes
Weight

1.6 kg

Power Voltage HZ

110-120W, 220-240V, 50Hz

Power Cord Length

160 cm power cord + 60 cm connection cord

Material

250 GSM Flannel Fleece

Model

HT-02C-UK

Energy Consumption

0.11 - 0.12 kw.h

Timer

1-9 hrs

Dimensions

160 x 130 cm

Number Of Heat Settings

10

Maximum Temperature

50°C

Safety Features

Overheat & Overcurrent protection

Estimated Energy Cost

3p per hour

Overheat Protection

Yes
Weight

1.9 kg

Power Voltage HZ

85W, 220-240V, 50Hz

Power Cord Length

150 cm power cord + 50 cm connection cord

Material

‎Microfleece + Faux Fur

Model

HT-04G-UK

Energy Consumption

0.085 kw.h

Timer

1-9 hrs

Dimensions

160 x 130 cm

Number Of Heat Settings

9

Maximum Temperature

45-50°C

Safety Features

Overheat & Overcurrent protection

Estimated Energy Cost

3p per hour

Overheat Protection

Yes