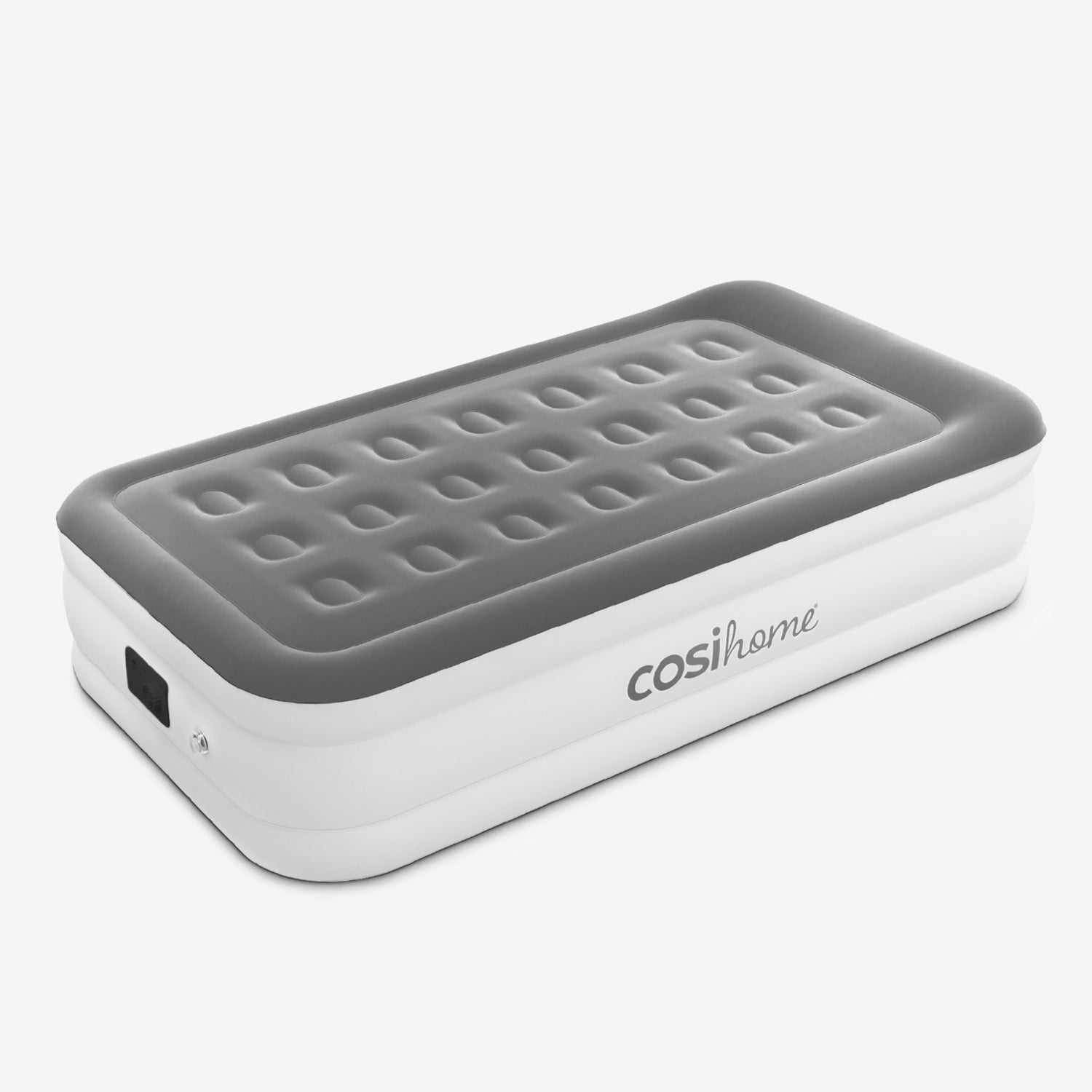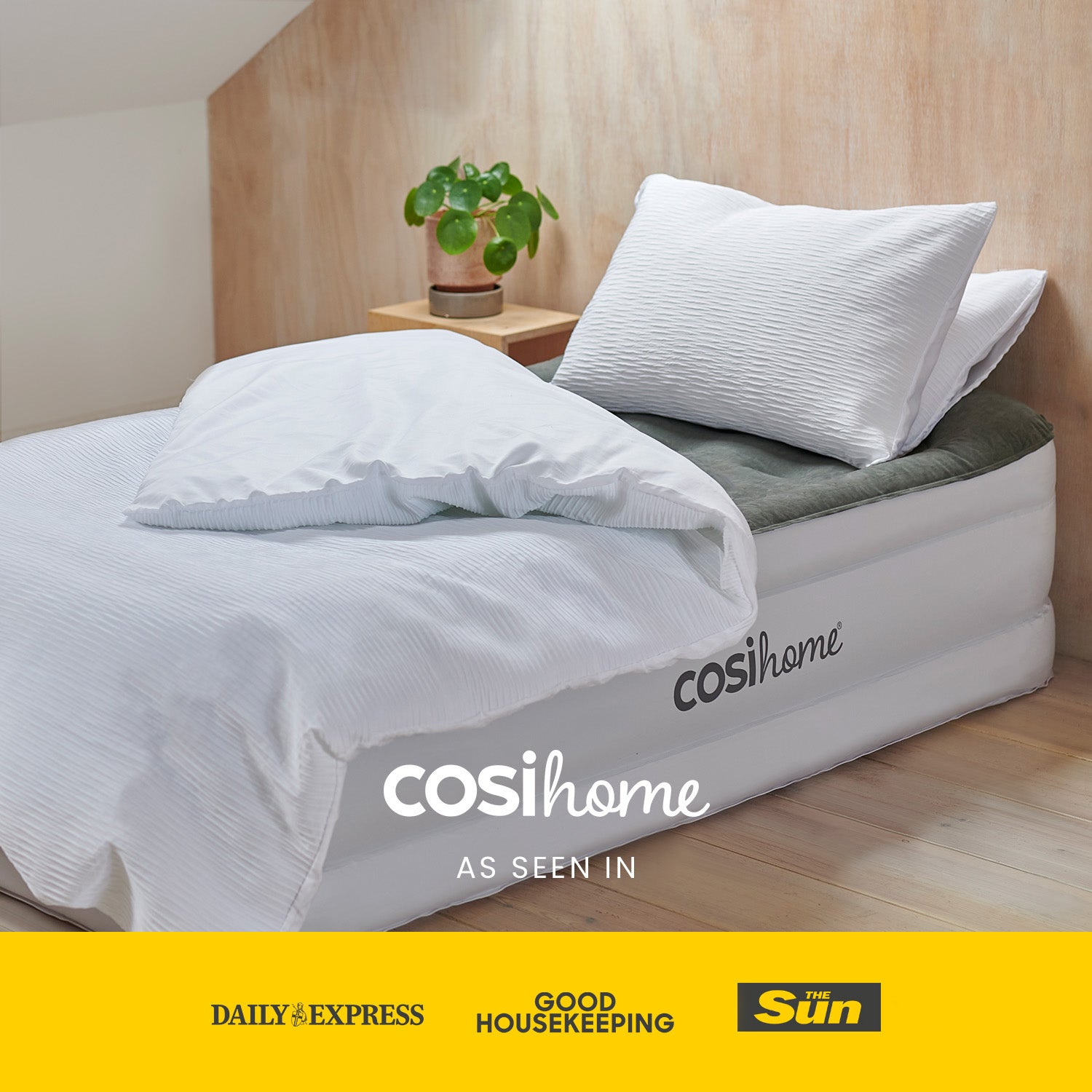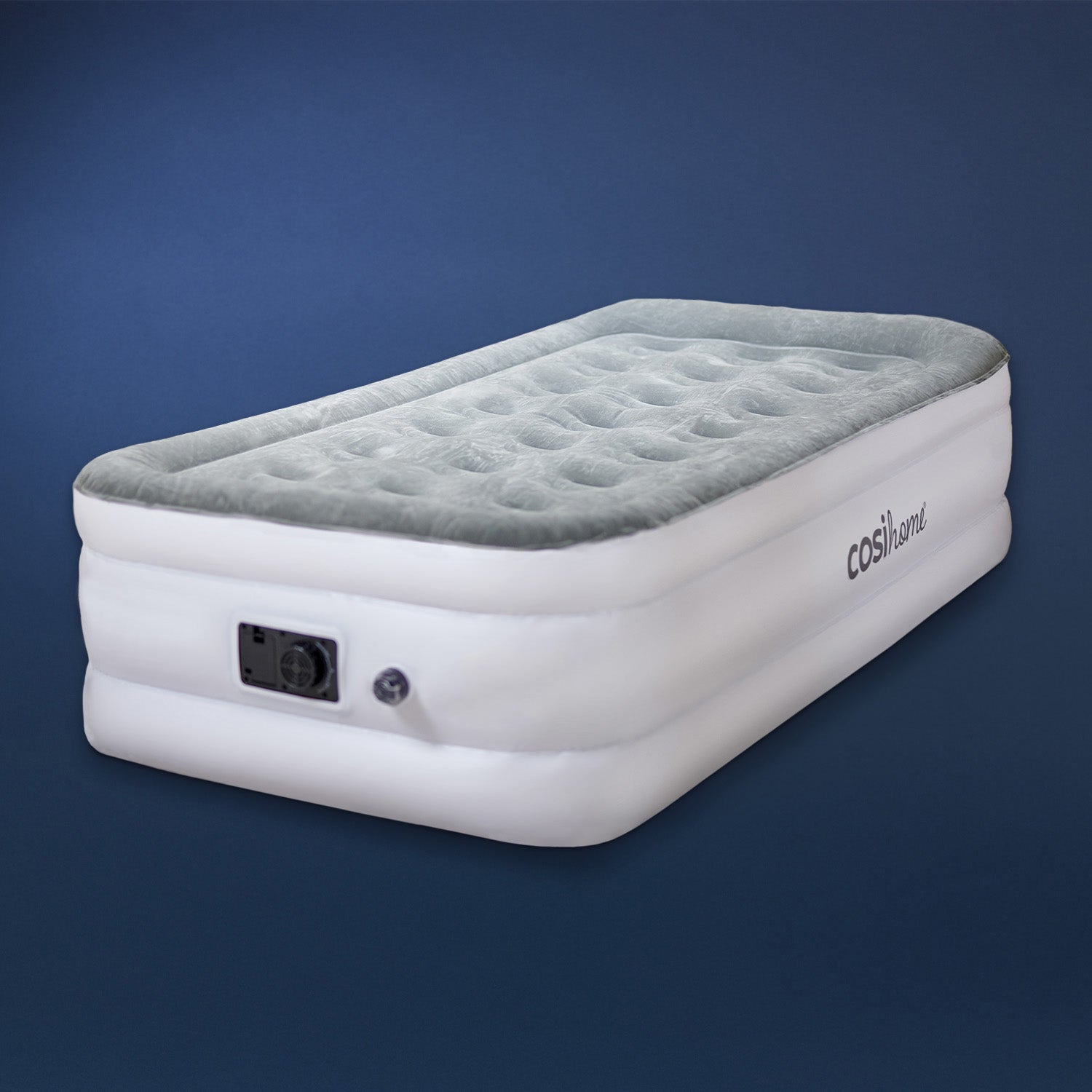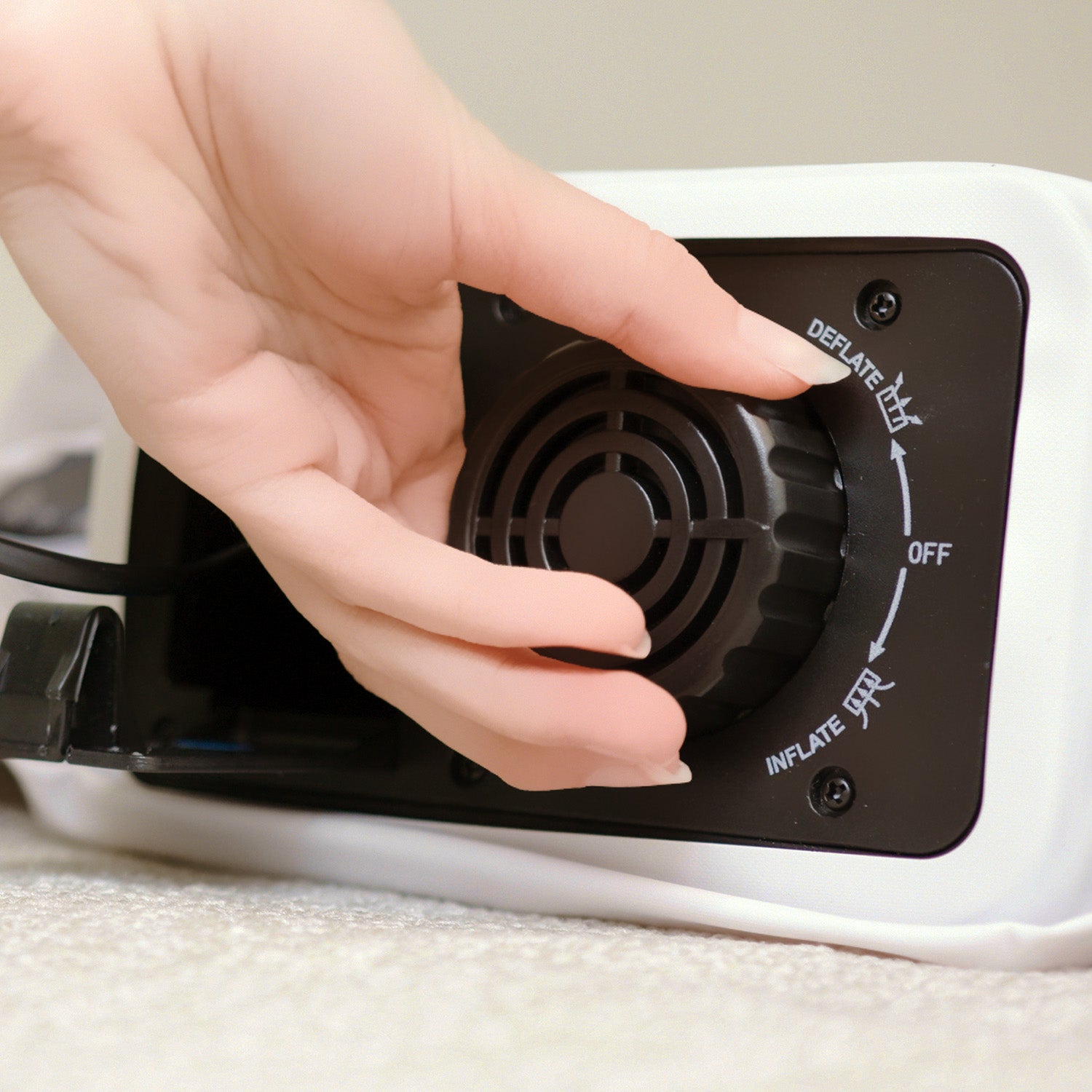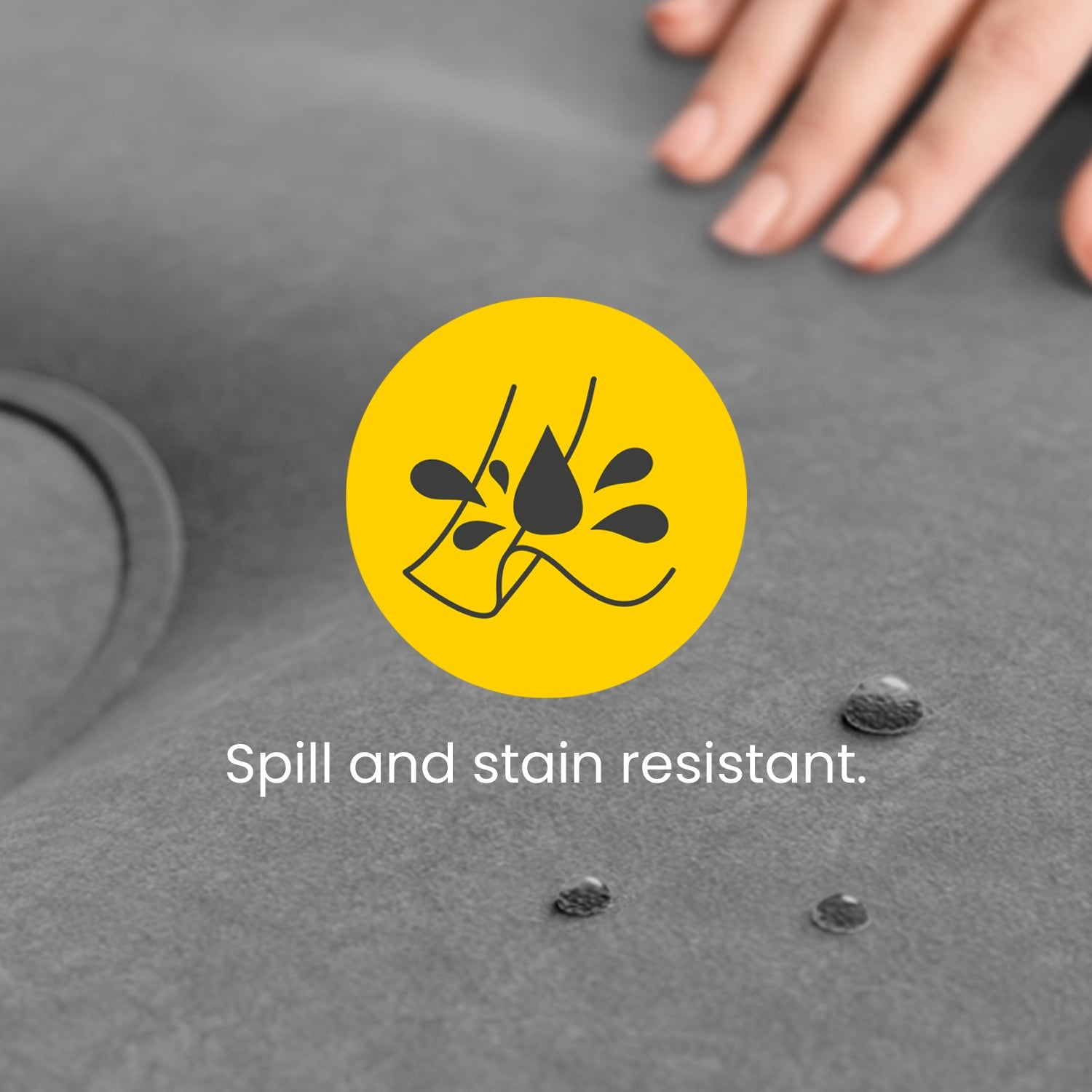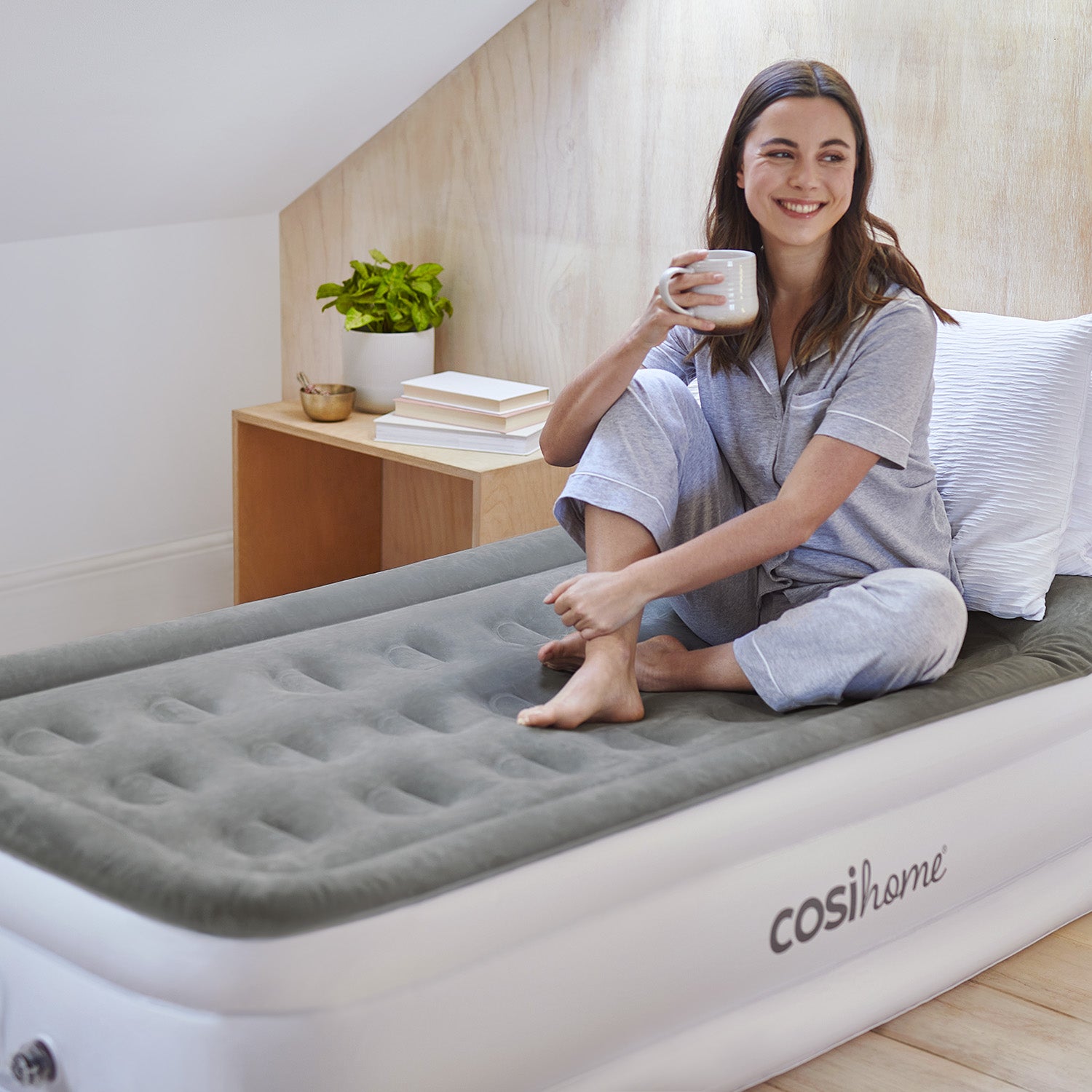 Single Size Air Bed - Built-in Electric Pump and Pillow
Want it by tomorrow?- Order in
hrs mins sec
Choose
Free Next Day Delivery
at checkout
Whether moving, travelling or hosting sleepovers, our Single Size Air Bed recreates that familiar comfort of your at-home bed. Featuring a raised pillow and the latest O-Beam technology, it's the closest you'll get to a real bed.
Don't look elsewhere! In this Single Size Air Bed, you've found the perfect alternative to a bed when you need that extra sleeping space for family and friends. The O-Beam technology and a built-in raised pillow provide essential full-body support, combined with a real bed's luxurious feel and comfort for a perfect night's sleep. The integrated raised pillow will improve spinal alignment and sleeping posture. In addition, we've designed the air bed with a built-in pump which will quickly inflate to firmness in just 90 seconds, meaning you'll soon be able to get a restful night's sleep.
We've designed the Air Bed with convenience and durability in mind. Combining a soft flocked waterproof top and thick PVC material, the hard-wearing construction ensures your raised airbed will last a lifetime while providing a quick and effective sleeping solution when you need it the most.
Built-in Electric Pump - 90 Seconds Inflation: The air bed will automatically inflate in 90 seconds when plugged into mains.
Integrated Raised Pillow: Keeps your head and neck supported overnight.
Waterproof Flock Coating: 100% waterproof and super-soft coating keeps the air bed dry in case of spills or when camping outdoors.
Anti-Slip Bottom Layer: Keeps the air bed firmly in place even if you wiggle at night.
21 Structured Air Coils: Provide superior bed-like support to the entire body.
Free UK Delivery
All orders sent within the United Kingdom come with free next working day delivery.
EU Delivery
All orders placed within Europe come with free Standard Delivery.
Please allow 1-5 working days for your order to arrive.
Pre-Order Delivery (UK only)
All pre-orders will be dispatched as soon as stock becomes available. You'll receive a shipping confirmation email once your order has been shipped. Pre-order delivery dates are subject to change.
Returns
In order to initiate your return, please notify our Customer Care Team at help@cosihome.com, within 14 days of receiving your order. To be eligible for a refund, your product should be unused.
You will then have an additional 14 days to return your order back to us, so your refund can be issued.
Please click here for further information about returns.
For EU customers, please see here.
If you're concerned that your product is faulty, please contact our Customer Care Team here.
For EU customers, please contact our Customer Care Team here.
Weight

4.6 kg

Power Voltage HZ

120W, AC 220-240V, 50Hz

Power Cord Length

138 cm

Material

Side: 0.385mm PVC / Top: 0.55mm (0.2mm flocked)

Structure

O-Beam

Bed Size

Single

Inflated Dimensions

97 x 188 x 48 cm

Deflated Dimensions

40 x 17 x 29 cm

Inflation Time

1 min 30 secs

Deflation Time

2 mins 10 secs

Electric Pump

Built-in (JH-628)

Max Weight Allowance

120 kg

Beam Count

21

Integrated Raised Pillow

Yes

Storage Bag

Yes (no handle)

Model

CH-ABS01-UK

Specifications Table Type

Air Beds
Compare with similar items
Weight

4.6 kg

Power Voltage HZ

120W, AC 220-240V, 50Hz

Power Cord Length

138 cm

Material

Side: 0.385mm PVC / Top: 0.55mm (0.2mm flocked)

Structure

O-Beam

Bed Size

Single

Inflated Dimensions

97 x 188 x 48 cm

Deflated Dimensions

40 x 17 x 29 cm

Inflation Time

1 min 30 secs

Deflation Time

2 mins 10 secs

Electric Pump

Built-in (JH-628)

Max Weight Allowance

120 kg

Beam Count

21

Integrated Raised Pillow

Yes

Storage Bag

Yes (no handle)

Model

CH-ABS01-UK
Weight

7.13 kg

Power Voltage HZ

120W, AC 220-240V, 50Hz

Power Cord Length

138 cm

Material

Side: 0.385mm PVC / Top: 0.55mm (0.2mm flocked)

Structure

O-Beam

Bed Size

King

Inflated Dimensions

152 x 203 x 48 cm

Deflated Dimensions

40 x 17 x 37 cm

Inflation Time

3 mins

Deflation Time

4 mins

Electric Pump

Built-in (JH-628)

Max Weight Allowance

250 kg

Beam Count

35

Integrated Raised Pillow

Yes

Storage Bag

Yes (no handle)

Model

CH-ABK01-UK
Weight

4.6 kg

Power Voltage HZ

120W, AC 220-240V, 50Hz

Power Cord Length

138 cm

Material

Side: 0.385mm PVC / Top: 0.55mm (0.2mm flocked)

Structure

O-Beam

Bed Size

Single

Inflated Dimensions

97 x 188 x 48 cm

Deflated Dimensions

40 x 17 x 29 cm

Inflation Time

1 min 30 secs

Deflation Time

2 mins 10 secs

Electric Pump

Built-in (JH-628)

Max Weight Allowance

120 kg

Beam Count

21

Integrated Raised Pillow

Yes

Storage Bag

Yes (no handle)

Model

CH-ABS01-UK
Weight

7.13 kg

Power Voltage HZ

120W, AC 220-240V, 50Hz

Power Cord Length

138 cm

Material

Side: 0.385mm PVC / Top: 0.55mm (0.2mm flocked)

Structure

O-Beam

Bed Size

King

Inflated Dimensions

152 x 203 x 48 cm

Deflated Dimensions

40 x 17 x 37 cm

Inflation Time

3 mins

Deflation Time

4 mins

Electric Pump

Built-in (JH-628)

Max Weight Allowance

250 kg

Beam Count

35

Integrated Raised Pillow

Yes

Storage Bag

Yes (no handle)

Model

CH-ABK01-UK